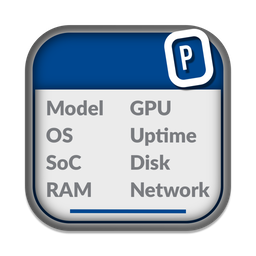 Particulars displays system information about your Mac. It shows computer name, model name, serial number, CPU, RAM, graphics card, OS version, Server version, current user, uptime, disk space, and network configuration. It can used in 4 modes: on your desktop, in the menu bar, in the Shortcuts app, or at the command line.
Particulars provides up-to-date information and dynamically changes when your system changes. For instance, if you switch Wi-Fi networks, Particulars shows the new network configuration immediately.
System information can be directly copied to the clipboard and then used in a large range of applications such as sending a support email or determining warranty coverage on Apple's website.
Particulars does not replace your desktop background image and is responsive to changes in your screen or space layout. It does not require any scripts or need any complex setup.
Particulars supports many disparate network configurations including IPv6, manual addressing, multiple addresses, captive portals, PPPoE, and VPNs.
Requirements
Supports macOS Big Sur 11, Monterey 12, Ventura 13, or Sonoma 14, Intel or Apple silicon Macs.
Features